For Wise Woman Ready to Make a Soul-Full Impact
If you've spent months (maybe years) stuck in your career WTFs and overthinking…
You're in the right place.
With the ZPB, you have the opportunity to reframe and reassess your past, present, and possibilities, so you can (finally) get a plan of action to make the impact you want to make. The one your soul's been craving…
Fill out a simple questionnaire — before hopping on a coffee chat — to share your heart, dreams, and readiness!
You've gone year after year in your career, wondering if this job or that role, will fill your bucket. Only to find your bucket wasn't made for the cookie cutter workplace…
And the data doesn't lie:
We want to make an impact in this world.
We want a work role with meaning and to make a difference.
And we want to have balance for our years ahead (with less stress and no burnout)…
Good news: You're in the right place & We can help you with that…
So you can pivot, be the changemaker you want to be, and not burn out doing it!
You're ready to transition and leave soul-sucking work, or what doesn't align with you, so you can have a fulfilling and more relaxing future, right?
We work with driven and motivated "Type A" women who are ready to push past self-doubt and a lack of clarity so they can live and work in the legacy they crave.

Working with us means you'll get a personalized, unique-to-you blueprint, and more, which will offer you both clarity and confidence so you can set yourself up for the years ahead with more time, freedom, and fun!
This program is a deep dive, but if you know in your *soul* and your bones that you're a changemaker and just need a nudge to walk through that doorway to create change within yourself and for the world…
The Zone of Purpose™ Bundle Can transform your life and
at the end of the ZPB program you'll have:
What's It Like to Work With and Be in Community with FSW?
Check Out Some Testimonials!

"I joined because I am in a period of transition and wanted clarity as I embark on the next phase in my life…it has already brought in spades the clarity I was searching for. I'm so glad I joined and highly recommend it for women looking to pivot and live their life purposes."
~A.N.
"I am so glad that Virginia and I connected early this year (2022), It has been such a great experience. Every time Virginia and I get on the call I take away so much from the call. She is open, honest, and great at connecting the dots to what I need to do when I am unable to see them. She is extremely knowledgeable and has such a kind heart. She is always willing to go the extra mile for you, just because. I am so glad that I now have Virginia in my corner and if you are looking for someone to push you to reach your FULL potential, then Virginia is your girl!"

~C.S.

"Virginia is an incredible coach. From the first time I spoke with her till now, I have found her perspectives helpful and encouraging. She listens, supports, questions and gets you to think. Most of all, she believes in you and encourages you to pursue your passion and dreams, living your best life. You feel you have someone in your corner to cheer, celebrate or whatever you need to push forward!
Join her program and see for yourself!"
~C.O'C.
"I cannot recommend Virginia highly enough. Her coaching has resulted in some profound insights that I was unable to achieve by myself. Just recently, she helped me achieve in less than half an hour what I had been attempting to do for months. If that's not a life-changing outcome, I don't know what is!
I leave each session with Virginia feeling more aligned with my authentic self, clearer about my priorities, and motivated to take action. Her empathic nature and ability to reframe my experiences to help me move forward in a meaningful way has been a game-changer."
~R.B.
Part One: Starting with Your Evolution
Part Two: Seeing Your Current & Ideal Situations in a New Way
Part Three: Begin to Map Out Your Possibilities
All of This looks Fabulous! How Much Does it Cost?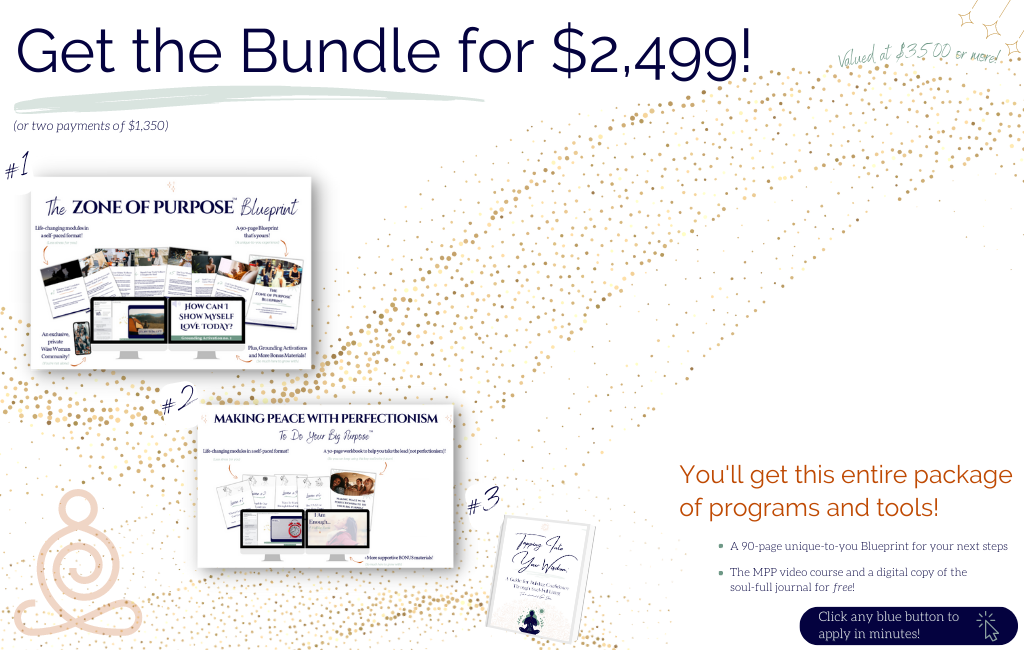 The Zone of Purpose™ Blueprint is a self-paced program (Because Life Happens) 
that Could save you YEARS of work…
but if you have More questions, let's chat about them:
Those who identify as women and who are in their 30s and 40s — sometimes we're called Millennials, avocado toast lovers, etc. And *bonus* if you identify as LGBTQIA+ because I do, too, and can hold space for you and the intersectionality we live through!
Also, you need to have work experience, because that's how we build your Blueprint (along with reflecting on your personal experiences, too). From your experiences, we'll see your strengths, own your shit, and help you move forward on the next path of your career and life journey!
Finally, you'll want to be ready to pivot with this newfound clarity in the direction you choose when the program is completed. I want you to shift, so you see that you do have the wisdom within you to expand in all ways vs. continuing to hold back. When you "graduate," if you're ready to go off on your own independent way, that's ok!
We're a circle of go-getters and changemakers, so let's go!
Honestly, it isn't for everyone. Not everyone longs for their "calling" or wakes up at 2:00 am wanting fulfillment and to do their soul's work — they're alright with doing the 9-5 and retiring in their 60s.
But over the years, especially during the pandemic, we've seen masses of people wondering "if there's more," and wanting to live their life with balance again… And women, specifically, have been craving more flexibility, equal workspace cultures, supportive team dynamics, and to retain and recall their own voices (and more).
This is an incredible time to being to open up to possibilities beyond the rat race. We're all feeling it: like we're not making an impact, the constant stress, not being able to unplug, and we want (and deserve) more than doing decades of this soul-sucking work…forever… If you're still not sure, Google "The Great Resignation" and "The Great Breakup" and read on. You're not alone and I like to think of this chapter as "The Great Awakening."
Like the last answer: I'm not for everyone. But what I do offer is over fifteen years experience from sectors like non-profit, social work, academia, and now business…that's post-college and doesn't even include my side work since I was a teenager or when at university. I also offer a lifetime of learning from personal highs and lows that make me show up for you, hold space for you, and listen to what's said and also sense what's not said.
I use my skills in communication, active listening, relationship building, my own intuition, and a rooted belief in your wisdom and brilliance. You don't have to listen to me, because you are a grown adult, but this program has been built from years of sweat and tears, shifts, and pivots. That's why I offer it to you, so you can have less of that (the sweat and tears), or navigate the highs and lows, while you pivot, a little bit easier.
You saw all the lessons above, but to recap: you'll learn how to work with and get past feeling stuck in overthinking and overwhelm about "what you're supposed to do in life." You'll also get the chance to reset your body, mind, and spirit, so you can build a healthier future. Again, to see specifics about the lessons, scroll up.
I'm not kidding: you won't be able to complete this program and say you didn't learn anything about yourself and how to pivot from here. That's pretty much impossible — you can start to get clarity Lesson One if you show up with an open mind, heart, and spirit. These lessons, assessments, and reflections, got me through my, "What if's…" and a whole lot of WTFs, and they're worth sharing with my fellow wise women!
To be 100% transparent: I offered this program live to my first cohort, to see how this program worked for others and if there was anything worth tweaking. Their happiness with the program was basically 5 stars (no joke), and after I delivered it I realized, too, I wouldn't change anything massive, minus a couple assignment items.
So, why self-paced? 
1) I'm a solopreneur and one stop shop, plus I'm also trying to have my own work-life balance. If I don't do that, I'll be a hypocrite and that's not cool.
2) I want more women to have accessibility to this program vs. be limited to what my capacity is as a human being doing live lessons with the cohort model. 
3) I also care deeply about a good user-experience (I know when I don't like a certain program setup myself) and I want this work to be self-paced so you don't feel pressure to show up to a live if you're having an off week or month. And we all know after the last few years with COVID and the pandemic, you think you're going to have an X Day and it becomes a Y Day.
More honesty: I struggled with pricing this out. I keep thinking of accessibility, economic turmoil, and instability throughout the world… I think about women who are struggling to pay for their rent/mortgage and utilities, or even food, because of inflation. And I remember when I've looked at the dollars in my checking account and went, "Ah, f-…"
That being said, after sharing this program and seeing the value that came out of it for my cohort, plus seeing what I offer you (honestly simplifying my years of work down to weeks for you), I've remembered:
1) When doing over 50-research calls and a few surveys, to help build the content for this program and serve women in this way, many shared price ranges that were well above what I originally asked for. Many recommended above $1,000 and some went up to $10,000. *I was pretty stunned myself.*
2) I was doing the math on the hours spent building this thing, from research calls to slide decks, content to outreach, and this asking price could be doubled or tripled. Plus, my years of processing and shifting (and time wasting) means you won't be wasting as much time hedging or sitting on the fence, so to speak.
3 I was told after the program wrapped up, this *needs* to be priced higher because of the extensive value provided, even up to $5,000.
4) When I show up to do this work, I'm all in. You don't have a bored guide here. Others sell "the secret" and bail, but this program is not that. I walk with you on this journey for the first two months — about the time it takes to get it done if you're focused and mindful of your time. I also honor your trust in me and don't take it lightly.
5) This program has evolved into a bundle because of how the world is operating right now and a gallon of milk is wicked expensive. I'm keeping it at the $2,499 price tag: for now or forever I have no idea!
Finally, as this work and enrollment continues to develop and expand, I want to have a scholarship option for women from historically disadvantaged backgrounds as a way of offering reparations. It won't make up for centuries of violence, tyranny, or erasure, but it's a start.
As I said earlier, you could really get some clarity starting Lesson One and you'll have a chance to rethink how you live your life, and go about your work, starting that moment.
Now, if you follow these lessons and the assignments, and really open up to what they offer, you could start to make changes in your personal and work life by the time you get halfway through (a.k.a. around Lesson Three or Four). By Lesson Seven you'll have your unique-to-you Blueprint that you can use for cover letters and your resume/CV. Take it to interviews or use it in conversations to start your business or to brainstorm that option. Or, *spoiler alert* use it in your personal life to create more boundaries and reset your work-life balance.
This is a deep dive, and if you do absolutely nothing you won't see any results, and that'll be on you, my friend.
I started the original cohort off with lifetime access and will stick to that for them, but I also know some women appreciate a good ol' deadline. So, how this has adapted is that you get two months free of a monthly membership with FSW's Wise Woman Community. Get the Bundle done in two months? Great! Keep your Blueprint and other learning materials and notes from The ZPB, MPP, and your journal, and go forth on your merry way! Not done yet or you'd like more support and community as you transition through your pivot for a longer period? Use two months free and then you'll pay the monthly fee for the membership service to continue in the Wise Woman Community. Feel free though to cancel your membership any time!
Click this button below, the blue one. It'll take you to a short, 5-minute application where you can answer some questions so I know where you're at and what you're thinking in this entire process. The ZPB program and student group is exclusive and a circle of like-minded (and hearted) women, so the vibes matter.
Once you do the application, we'll get on a Zoom call asap to go over your answers and make sure you're ready for this step! If you're a good fit for this whole process, after enrolling you can start right away (another bonus to self-paced)!
FSW started for two reasons: to help you, professional women, develop trust in yourself and your abilities, and to help you transition in life from this place of trust.
It took me *years* to find out what was missing in my life: a feeling of balance, boundaries, and living in a world of possibilities and being truly open to them. Another significant realization I've made over the years is that I kept looking to others to reinforce my values, how I operated, and what shaped my destiny. Even though I didn't have a name for it, or the words to articulate my shifting viewpoint, I knew what I had in me needed to come out.
I now call it wisdom, experiences, and evolution.
We live in a world that challenges us, but I'm here to walk with you as you reflect on what your path forward can look like. You're not alone and there is no one like you on this planet. You're here to do some beautiful work, be it in your professional role, your personal life, or even within yourself. And that is critical for your expansion and how we continue to pay it forward for the women coming behind us.
Join me and let's get you over "that hump," or over your proverbial threshold, towards the reason why you're here to do the work you're meant to do.
Virginia James
M.S.W./C.S.W.-P.I.P.